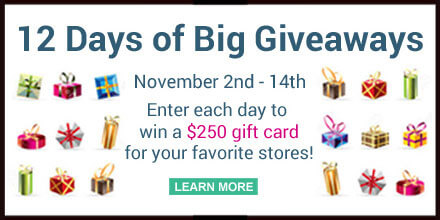 #SDC12Days
Savings.com has teamed up with 12 merchant partners to give away $3000 in gift card prizes in our 12 Days of Big Giveaways campaign! Each day, from November 2nd – 14th, we'll be giving away one $250 gift card prize to a different merchant.
Giveaway Details:
Monday, November 2nd through Saturday, November 14th (skipping Sunday the 8th)
Giveaways start at 12AM ET each day and end at 11:59PM ET each day
One winner each day will receive a $250 gift card to the featured merchant on that day
Users enter the giveaways by visiting the merchant pages on Savings.com and submitting their email address
Savings.com will donate $3000 to the charity that receives the most votes from contest entrants
All winners and the winning charity will be selected on Tuesday, November 17th
Click on each of the link buttons below to hop over and win from each company!
Only 46 Days until Christmas! Be sure to join our Frugal Family Deals & Steals Group on Facebook – it's free & you can even add requests for particular items on your list. We'll track down the best deals!