Four meals from one chicken is actually possible! Of course, the size of your family will determine how far you can stretch it, but these ideas and recipes will help.
Disclosure: We use affiliate links. If you make a purchase with our links, we may receive a small profit, at no additional cost to you. Thank you for your loyalty. Your support helps us maintain the site.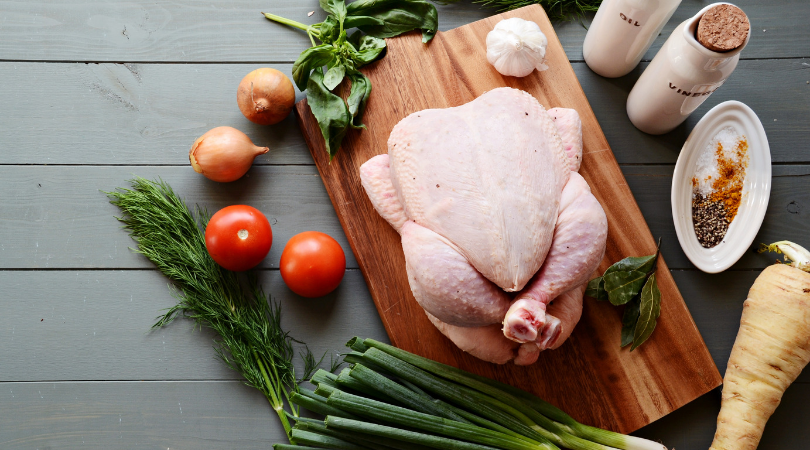 Stretching a chicken to make extra meals is easy with these tips! Whether you are trying to save money or make the most of limited supplies, a chicken can help. Don't be afraid to make substitutions as needed.
Four Meals from One Chicken
Chicken Meal Prep
Bake the chicken whole or in pieces in the oven with skin on. I sprinkle on garlic powder, salt, pepper and bake uncovered at 350 degrees for about 1.5 to 2 hours (3-5 pound chicken) with an internal temperature of 180 degrees F (82 degrees C).
Rest to cool – remove meat from the bones in bite sized pieces. Divide into at least 2 piles – 3 if you think you can stretch it that far for your family. Each pile will be mixed with either pasta or rice! Pasta dishes don't require as much chicken as rice usually does if that helps you plan amounts right for your crew. Store in bags or containers.
Save bones to boil for broth.
Chop any fresh vegetables you want to use for the next steps. Use the following recipe ideas to plan according to what you have on hand.
Chicken Recipes
Vegetable Soup
Boil bones in a big pot of water on rapid boil for 5-10 minutes. Turn down heat and simmer for 30 – 45 minutes.
If you have celery stalks, cut the tops off and the bottoms and use the parts you would normally throw away to add to boiling pot.
Chop a stalk or two of celery – set aside.
Chop any fresh veggies you want to use in your soup – depending on what you have on hand. Carrots, celery, potatoes, onion, green beans, greens, broccoli, cauliflower – virtually any vegetables you want to use that will work well in a soup. Frozen vegetables or canned can also be used or a mixture.
Remove bones and any celery tops from the broth. Season with garlic powder, pepper, salt. Continue cooking on low as you add vegetables. Cook until vegetables are softened.
Taste broth and add any additional seasonings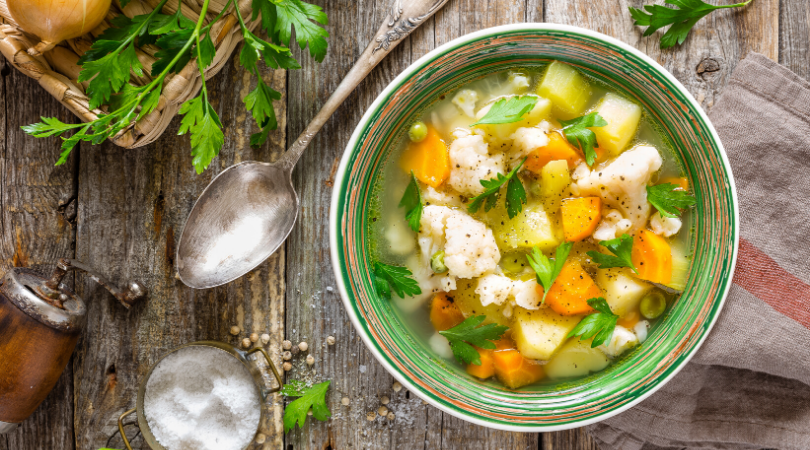 Chicken Pasta Casserole
Cook and drain pasta according to directions. Toss with butter or a little oil if available.
While cooking pasta – Heat chicken (already set aside) in microwave or in a skillet with a little butter or oil.
Season chicken as desired – garlic powder, salt, pepper are all simple and good.
Toss chicken and pasta together.
If desired, add a gravy or sauce. Make sauce by adding a tablespoon of butter, oil, or coconut oil and 2-3 tablespoons of flour to skillet and stir together, slowly pour in milk, cream, or broth to make base of sauce. Stir it until as smooth as possible, adding milk or broth as needed until you have enough. You can add cheese if available for cheese sauce. Seasons can also be added.
Add sauce to casserole.
Alternatively, if you do have cheese, grated cheese or Parmesan can be sprinkled in.
Vegetables can also be added to casserole if desired. Try peas and carrots, broccoli, or spinach.
If possible, you might want to top casserole with cheese, crushed crackers, or Durkey onions. Sprinkle casserole and brown in oven for 15 – 20 minutes.
Chicken and Rice
Cook rice according to directions.
Toss with butter or oil. Season as desired.
Heat and add rice and/or beans (canned or dry black beans or pinto beans are a good choice).
If available – sour cream, cheese, onions, mushrooms (canned or fresh), or other vegetables can be added
Chicken and Beans Tortilla Rolls
Cook dried black or pinto beans ahead.
Heat chicken bites in a skillet or microwave.
Warm tortilla rolls if desired.
Place large spoon of beans in tortilla, sprinkle with a few chicken bites.
If available top with lettuce, sour cream, peppers, cheese, onions, tomato, chives . . . anything that works for you! Canned or jar topping ideas might include – banana peppers, mushrooms, black olives slices, onions, or salsa.
As you can see, all of these meals are meant to be flexible. Use what you have on hand, or foods you like to make them yours.
During this time of trials and the global pandemic – Stay safe, be careful, and love each other! I hope these ideas help you make the most of your food. I'll be sharing more.
---
Get FREE REE Prime Shipping – Try Amazon Prime 30-Day Free Trial
 and ship from Amazon for FREE on tons of purchases.  Sign up with Swagbucks to earn FREE gift cards from Amazon & other shops you love!
Check out our Facebook Group – Frugal Family Deals and Steals to get hot hot deals and regular updates during the Christmas season. Go Here to join our free deals group and start saving money today!